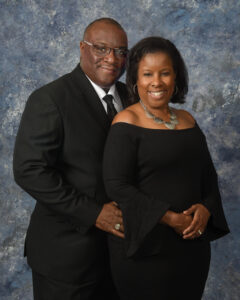 Reverend Darryl N. Person was elected Senior Pastor of the historic Ebenezer Missionary Baptist Church in March 2019 after having served as the Assistant Pastor of Metropolitan Community Church, also in the Bronzeville community, for many years. A graduate of Morehouse College, Emory University's Candler School of Theology and Garrett Evangelical Theological Seminary, two of the greatest emphases of Pastor Person's ministry are the importance of the written Word and the necessity of hope.
Pastor Person has a distinguished career as Chaplain for the United States Navy primarily responsible for planning, staffing, budgeting, technology, and operations of the Command Religious Program at various Naval and Marine Corps Bases. He is also the Commander of the Naval Junior Reserve Officers Training Corps at Proviso East High School in the Maywood community. As an expert in the areas of Suicide Awareness, Premarital/ Marital Counseling, Divorce Recovery, Crisis Management , Domestic Violence, Church Administration and Critical Incident Stress Disorder, Pastor Person provides Christian-based counseling to teens, young adults, couples and families.
Having traveled extensively across the US and abroad for over 30 years, Pastor Person ministers strongly on such areas as love, faith, healing, prosperity, and hope. His heart is to see the lost saved, the sick healed, the distressed relieved, the broken restored, and the discouraged empowered to victory. Pastor Person says, True Christianity is not the formal, powerless thing that so many have come to know. Real fellowship with the living Christ results in the destruction of every bondage, the removal of every burden, and the fulfillment of every good desire. There is no life so exciting as the victorious life that is true Christianity.
You will find the teaching ministry of Pastor Person rich with revelation, yet easy to understand and to put into practice. Many have testified to healing, deliverance, and life-changing experiences through this anointed ministry. To God be all the glory!